The Hickory Playground was created by Dylan Tashjian, Robert Fuller, and Jordan Makant to celebrate creativity and support arts education in public schools in Catawba County, North Carolina.
The Inaugural Hickory Playground took place over a 48-hour period from July 21-23, 2016. More than 250 people came to the SALT Block's Drendel Auditorium in Hickory, North Carolina, to watch eight original one-act plays performed for the very first time. By the end of the night, thanks to our incredible sponsors and audience, we raised $6,000, half of which we gave to Hickory High School's Art Department, and the other half to St. Stephen's High School's Art Department.
Since that 48-hour period, the Hickory Playground has gone from a project three teenagers created in order to help their community and transformed into an arts advocacy organization dedicated to promoting arts education and arts experiences. Every July, the 48-Hour Theatre Festival brings together eight original playwrights and 25-30 local actors to create still more magic for a one-night-only crowd at the SALT Block's Drendel Auditorium. Additionally, every June, the Hickory Playground throws a party in honor of the visual and musical arts — local visual artists come together to sell their work, local musicians come to perform and sing, and people from all around Hickory, Catawba County, North Carolina, and the country come to dance, appreciate, and celebrate the arts.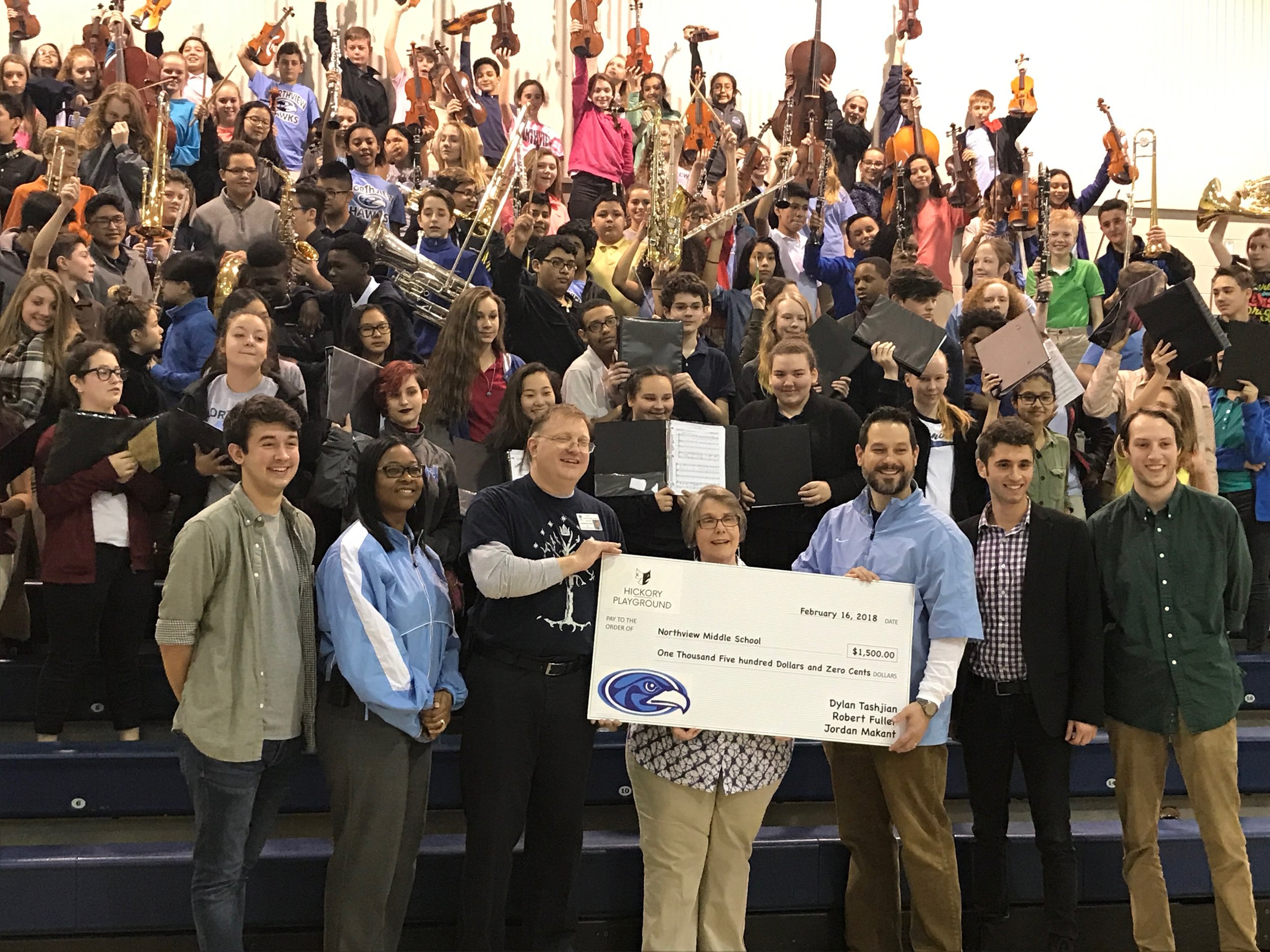 Since 2016, the Hickory Playground has been able to donate more than $37,000 to arts education in Catawba County, North Carolina. As we continue to expand our programming and our outreach, we are always looking for great new ideas and projects. Want to be a part of our story? Please contact us! There is always room at the table. And that is what we are all about.
The Hickory Playground's support is the only reason we're able to do a musical this year!
-- Alison Andrews, Drama Teacher at Bandy's High School
When we look into the future, we see a world in which the Hickory Playground is able to continue to increase its financial support of the arts in the Catawba County and wider North Carolina community. Whether it is theatre, music, visual arts, writing, or anything else, we love creativity and want to see more of it. We are incredibly proud of what we have accomplished, humbled by the support, and overwhelmed by the enthusiasm the community has shown us.
We look forward to continuing to build our story together. With your help, we know we can go far. If you are interested and able to contribute in any way to the cause, please feel free to contact us at any time.